Sculpture
Inhabitants in a drop of Water
12" x 16" x 10" $1800
Hundreds of small pieces of glass arranged, heated, melted, cast and fused into this disc. The back of the glass is textured and small bubbles of trapped air lend an added sense of viewing the colorful inhabitants in the sculpture drop of water. The base is a steel sculpture specifically created to showcase this work of glass art.
Random Interesting Artifacts
A surprise from every angle. This mixed media sculpture was Whimsically soldered together (as is my style) long before I learned to shape glass and weld steel. It currently lives happily in my private collection of works until the day it is adopted into its next forever home collection.
Industrial and Organic elements that include Copper. Pottery Fragments., glass, Chain, Natural Horn, screen, Dichroic glass, vintage radio component.
20" x 11" x 10"
$2800
Schooling Patterns
Schooling Patterns embodies my fascination with schooling fish, how they move and reflect light and especially where this sculpture is concerned, the shadows that add to its depth.
A similar Schooling Fish sculpture can be created in virtually any size, length and shape to accommodate your home, office and yard.
Message me for details.
Not Quite Icarus
16" x 10" x 30" $1800
Light Sculpture. Metal men, Birds in flight, light…Not Quite Icarus.
Steel sculpture producing interesting and vivid shadows.
Dragon Song
$8400
12" x 10" x 55"
Dragon created from texture welded steel and piano wires, very carefully welded together with fire and plenty of patience. Sitting Majestically atop a stainless steel pedestal, Dragon Song winds around with the fluidity of molten fire and steel.
Ravens Three
16" x 10" x 4" $350
Three Ravens created using 18ga steel. Hand formed, hand painted.
Semi Gloss black with hints of the grinding marks inline with the feathers slightly shining through. This sculpture can be showcased vertically (as shown) or horizontally.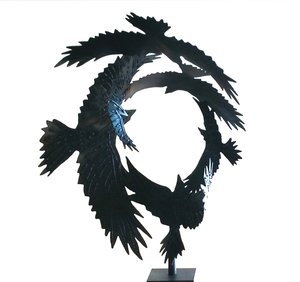 Circling Ravens
22" x 13" x 10". $2200
Circling Ravens
The first in the Spirit of Flight collection, started in 2018.
It currently reside in a place of honor in our sculpture Oasis, in the Village of Fairport, New York.
Currently not for sale. However; I will consider a similarly themed custom sculpture. Message me for details.